Click photos to get larger picture

Above making measurements on the IMSS #2427 at the museum in Florence Italy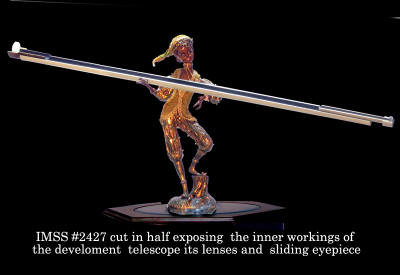 Above a cut away of the IMSS #2427 showing the interior constructions complete with a sliding eyepiece tube


Above a specially constructed eyepiece lens holder for the IMSS # 2427 using a positive eyepiece lens a Kepler 1611 design) giving a larger field of view. We changed the focal length from 100 to 50 mm increasing the instrument power to over 26. We also have made the eyepiece extra long which allows the telescope to focus to less than 50 feet so that it might be used inside a large room.

IMSS 2427 half telescope mounted on stand showing all the details of the inner world of Galileo's development telescope. The eyepiece can slide in and out. Throw a light shield over the telescope and it can be used.
Galileo documented the method he thought best to explore the scientific world in a letter he wrote to the Tuscan court of March 1610. In this letter he recommended a hands on approach to learning. He believed that everyone should be exposed to this method of teaching so that all could learn for themselves about scientific discoveries and not from those afflicted with emotionally or political biases agendas

Galileo Galilei's 1610 letter to the Tuscan court of March 1610
"In order to maintain and increase the renown of these discoveries, it appears to me necessary to have the truth seen and recognized, by means of the effect itself, by as many people as possible.
I have done, and am doing, this in Venice and Padua. But "spyglasses" that are most exquisite and capable of showing all the observations are very rare, and among the sixty that I have made, at great cost and effort, I have been able to find only a very small number. These few, however, I have planned to send to great princes, and in particular to the relatives of the Most Serene Grand Duke. And already I have been asked for instruments] by the Most Serene Duke of Bavaria and the Elector of Cologne, and also by the Most Illustrious and Reverend Cardinal Del Monte, to whom I shall send [spyglasses] as soon as possible, together with the treatise. My desire would be to send them also to France, Spain, Poland, Austria, Mantua, Modena, Urbino, and wherever else it would please His Most Serene Highness."

ref 9
Click here For more about Galileo's intuitive understanding of the big issues of science and trust.
---
Following Galileo's concept above we are furnishing
For Sale
Museum grade clones of both of Galileo's Telescopes.
We are also providing accessories and half models to demonstrate the details of their internal construction.
call 781 245 2897 Galileo@comcast.net


IMSS 2427
Click on the picture to enlarge the image
click here to visit our site
for more details
Galileo as a technologist is one of the purist case studies we can use to help us understand the dramatic role that basic scientific research plays in our health, society, business, religion, culture. and the health of our planet.
Galileo's world of how science is done 400 years ago is not very different from today. Basically, there are greater numbers of people, and we have a substantially increased speed of communication of accurate and inaccurate information. The cost of basic research which was born by the Dukes and Princes in the 1600's is still paid for today by our governments. Schools and museums are still responsible for teaching us the truths of science. Interesting not enough citizens understand the science of science.

Galileo's model of teaching is almost universally accepted (to some not nearly enough). We would make one small update in his definition of truths. We would include not only what we see in the telescopes but to see how the world of science really works, remembering that there are no words powerful enough to express the importance of basic scientific research.

So by studying the scientific career of Galileo Galilei, along with a very accurate replication of his instruments, experiments, methods, materials, and funding or any part there of we can significantly improve our understanding of the very heart of science. Again we say Galileo Galilei strongly favored this approach. Today it is even more important because of the increased strength of the impact of science on all of us. Current topics Stem cell, Global Warming basic research etc. need our understanding of the science of science.
Good replicas give users a tactile as well as a visual sense of the original telescope. It's like being in a time machine traveling back to 1609. A very brief list of some of the items that come up in Galileo's story that are good examples and should be included in a study plan that shows how Science works are listed below. Random thought for a study plan

Museums like the Adler Planetarium bring you to the instrument of science and connect you to their history and to your future.

The Adler Planetarium is a must place to visit They have a magnificent collection of Astronomical instruments on display. Lots of things to do and see. Its a very interactive place, fun to visit, learn, and play The Planetarium is located on a man made island with a spectacular view of the Chicago's skyline.