Written by Stephen Lyons
Directed by Llewellyn M. Smith
Its more than a job. Its something special.

Camera Gary Henoch
Tom Fahey
Stephen McCarthy
Making it so real you feel like your are there.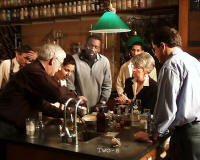 The team, actors, authors, directors, chemical consultants, cameramen, and many more surrounding a laboratory bench intently working together on a laboratory scene to get it right.

Produced by
Llewellyn M. Smith
Stephen Lyons
Its a thousand and more details and they all have to mesh