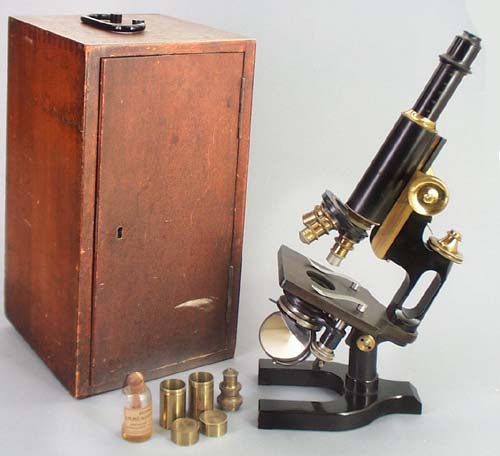 SPENCER MONOCULAR MICROSCOPE Serial # 15700 c 1900
This instrument purportedly comes from the estate of Thomas Edison's chief scientist, CHARLES L.CLARK, late 1800 and early 1900, . It comes with a small cardboard box mailed from B&L and addressed to Charles L. Clark c/o General Electric Co. Research Lab., 1 River Road, Schenectady, N.Y. Photos of the box are included on the page. The box contains odd fragments including a lens, pieces of glass, metal, and part of a slide.
This instrument is supported by a horseshoe base and a 2-1/2-inch tubular pillar capped by a joint. The stage is 3-3/4 x 5-1/4 inches with a screw-in substage. The mirror is on a swinging bar, the 3-1/4-inch limb and arm are of the handle type, and the fine adjustment screw is at the top of the limb. The instrument has a body tube 4-1/2 inches long, a graduated drawtube, rack and pinion adjustment and triple nosepiece. It is of black finish with brass trim and stands 11 inches high when closed.
Signed "Spencer Lens Co., Buffalo, N. Y., 15700." Includes four high power objectives and spent oil for oil emersion objective and original cabinet to hold the scope. The instrument is in very good condition. The cabinet has normal rubbings and scratches as shown in the photo.
AST item # 206, Price $775.00
Jim & Rhoda Morris
SciTechAntiques.com 781 245 2897 email k1ugm@comcast.net